"Welcome to Radcore my personal website and not only!! These page contains mostly everything I'm intrested in and I hope to help others with some of the information posted on here."

Singed: -zenorone-
P.S: Sorry about those pop-up ads, it's the price you have to pay for free web hosting :-(


---
- 18/5/2004 -
IT"S HERE!!!



VODKA JUNIORS have released SUBURBANCORE! I just got it yesterday and this album kicks ass!! This full length album THRASHES it's way throught your stereo from start to finish with 15 raw Hardcore-Punk tracks ready to blow your head off!! The lyrics come with a cool comic book and on the cd there is included multi-media content and a video clip!! :-)

Get a hold of it at:

> JINX:INDEPENDET MUSIC OUTLET
Adress: Asklipiou 24, Athens
> RHYTHM RECORDS
Adress: Emm. Benaki 74, Athens

For other locations check out the Cannonball website

Also comming up is the annual Knock out Fest on MAY 28th
bands that will be playing are: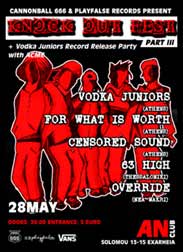 Vodka Juniors
For What Is Worth (ex Volume 69)
Censored Sound
63 High
Override


See yA later!!!!
- 03/02/2004 -
UPDATE AT LAST!!

I decided to get off my ass and update this freking website. So in the following weeks I will post the Skateboarding section. Also BACKFIRE! pics from their live show here in Athens .

I've also started an other project called RADCOREFILES..
So check it ou.
- 19/11/2003 -


Mute The Silince have realesed there debut album. On new Greek indie record label PlayFalse.Pure, fast, melodic punkrock.For information about MTS new album head over at www.mutethesilence.com. Pick it up at the usual spots.
- 9/3/2003 -

Added another 14 wallpapers to Radcore, so be sure to check them out!!!

- 8/30/2003 -



=> Cannonball666Records have released there latest compilation sampler called "...COUNT ME OUT" , featuring 18 greek bands with 18 new unreleased tracks. So check it out at the next show or pic it up where you can find realeses from Cannonball Records.


- 5/15/2003 -
Punk/HXC is 80% fuctional so checkti out..

- 2/14/2003 -
Radcore has gone under major redevelopmnet and 80% of the site can be viewed. The sections that are not yet done are : Punk/HXC & Skate.

- 9/15/2002 -
Posted my whole collection from this summer wanna peak ?
News Flash!
It was discovered today that kiddies who think "31337" means "elite" are more prone to be suffering from brain damage and may be apt to do voluntary acts of ignorance by using prewritten scripts for personal gain. Sufferers also exhibit delusional spastic behavior in some cases, and have been known to repeat the same phrases over and over when irritated. If your child shows any signs of scripkiddius syndrome, please contact your local mafia or militia to come and remove the peoblem for the rest of us.